Ezio: How about more questions, my friends?
We wish you all a happy new year 2013! ♥
And thank you all for following me! 
Well, quite a few women flirt with me these days and I also get a lot of these wonderful love letters but… to be honest I prefer them all as friends.

Leo: Well, the most embarrassing one I know of is that Ezio once tried on Cristinas underwear… And he liked it.
Ezio: …! 

Leo: Si! And it is amazing how much they changed, how much the new techonolgy improved them! I'm so surprised and fascinated, although I kind of expected that they would improve a lot but still!
Ezio: *confused*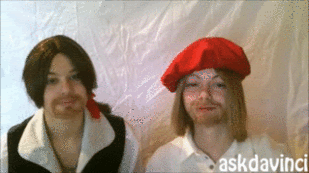 Leo: Si, of course! Here is our list~
Ezio: Enjoy. :)

- Closer - Nine Inch Nails
- Toxic - Local H
- Skin to Skin - E-Rotica
- Bruises And Bitemarks - Good with Grenades
- Touching on my - 3OH3
- S.E.X. / Something in your mouth / Next Go Round / Everything I wanna do - Nickelback
- Pit Of Vipers / Super Psycho Love / Flesh - Simon Curtis
I actually like ALL animals, no matter which. But if I'd really have to pick then I'd decide for pigeons. They are so much fun to watch and to draw!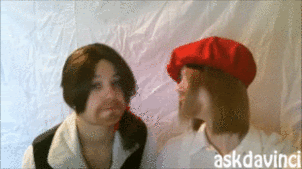 ♥
That would be Niccolò Machiavellis book 'Il Principe', a wonderful work and very pleasing to read. :)

Leo: Thank you ♥
1
2
3
4
5
6
7
8
9
10
Next